Here's the lovely Batyah, Shes been natural for the past four years going on her fifth if I'm not mistaken and I just adore her hair . Her styling skills are off the hook and I swear if I can get to GA next summer , I will be on a hunt to get her to style my hair ( she doesn't know that of course lol). You can find her over on Fotki showing her lovely hair skills or on Nappturality posting.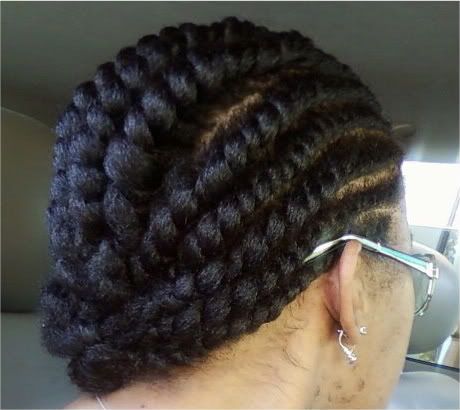 My Winter Hair Routine is pretty simple and to the point.

My main hair priorities during the Winter season are moisture and keeping my ends tucked in most of the time.
For moisture, I use two types of conditioners; rinse-out and a leave-in as well a humectant like black Castor oil.
For the conditioners, they're an absolute must!!! They add moisture and seal in moisture to my hair after I shampoo.
Also, once my hair has air-dried after a shampoo/condition/detangling session, I use a humectant (a substance that promotes moisture retention) like black castor oil for example, to further retain moisture as well as draw moisture into my hair. I normally use black castor oil while I'm styling my hair.
As for keeping my ends tucked or protected, I try to wear more flat twist styles so that the majority of my ends are not exposed like they are when I wear single two-strand twists. I also wear a hat or scarf on my head when I'm outside in the elements.This helps to keep my hair from drying out due to the cold air/wind.
Here are two examples of protective styles that I'm likely to wear during the winter season;